Hemp Fibre Processing
Tatham manufactures hemp decorticating and cleaning machinery to provide clean hemp fibre suitable for onward processing for the home textile, apparel and nonwoven automotive market.

Recent legislative changes in many countries now allows the growing of the the virtually zero tetrahydrocannabinol (THC) Cannabis Sativa plant for the production of hemp fibre, shiv, seeds and the bi-products of cannabidiol (CBD).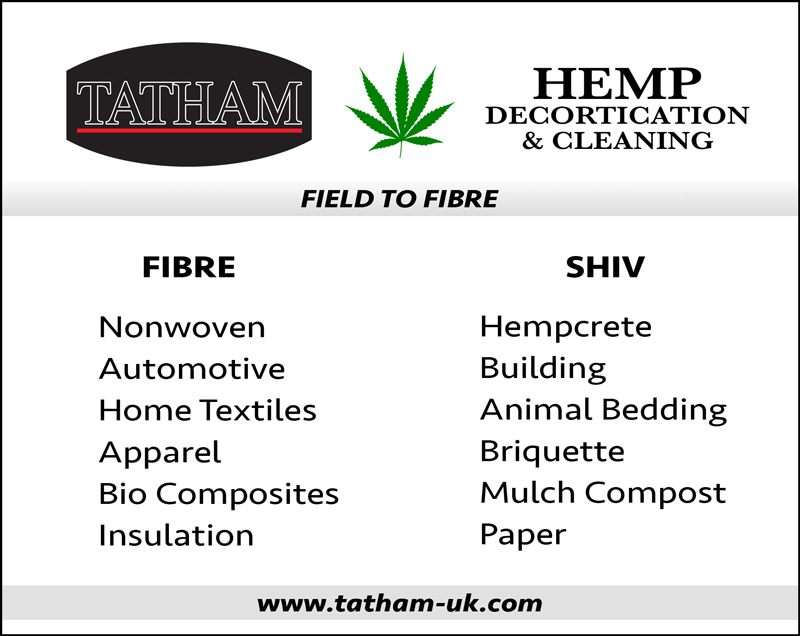 Tatham decorticationg and cleaning lines separate the hemp fibre, shiv and dust. Packaging solution in line for the baling of IS0 bales, briquettes, shiv and animal bedding, filtration and packaging of dust

The hemp plant after growing,harvesting and retting is baled and transported to the hemp fiber decorticating and cleaning unit.

Input weights up to 4000kilos per hour can be processed on one line.

Cleaning of the fibre can be prepared both for non woven and apparel fibre products.

Tatham can provide a turnkey proposal for the complete line and installation including the processing of the shiv and dust bi-products for onward use in briquettes, animal bedding and construction products.

Tathamís expertise in non woven can also supply non woven machinery for the production of hemp needled mats and felts for automotive and home textiles and the thermobonded products of hemp insulation.