Hemp - 'Field to Fibre'.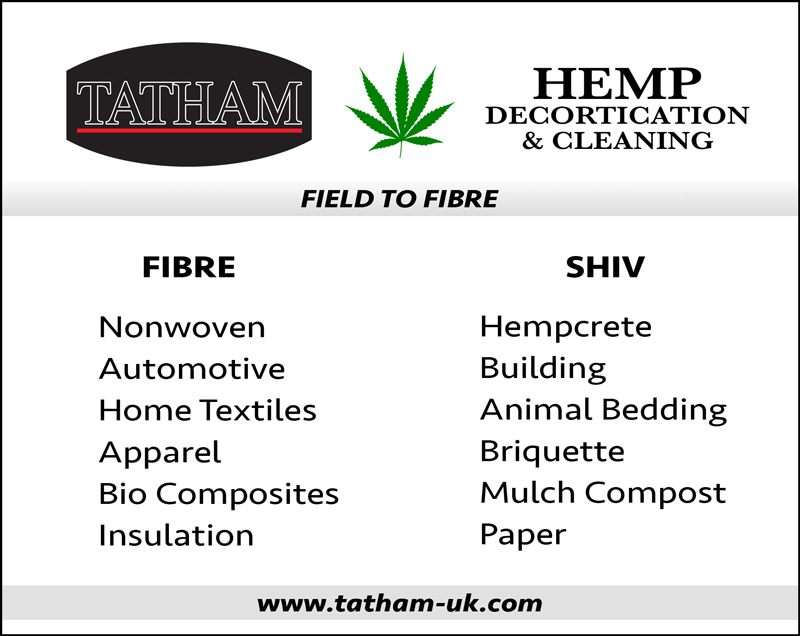 For hemp processing we offer a turn-key production line for nonwoven products
Decortication equipment and cleaning of hemp fibre for multiple end uses.

Hurd/Shiv processing

Nonwoven production lines (thermal bonded and needled) for hemp fibre mat formation

Airlay production line for insulation products

Cottonising and wet processing for consumer disposable wipes.
The Decortication and Cleaning equipment machinery is manufactured in the UK to strict engineering standards.
We can offer a complete service from 'Field to Fibre' for industrial hemp fibre production. Our decortication & cleaning process has a gentle opening action to maintain the fibre length so it is suitable for subsequent processing.
We have in the UK two of the most efficient hemp decortication lines operating in the world. This efficiency is measured in machine utilization, low maintenance costs and machine operatives.
Tatham manufactures a Robot Feeder for 5 foot wide x 6 foot diameter retted stalk round bales input up to 4000Kg per hour and a more traditional inclined hopper feed for rectangular bales with an input up to 2000Kg per hour
New lines on order are to be exported to New Zealand, Canada and a European installation.
Tatham decortication lines take care of both the shiv and the fibre. For each 1000kKg of stalk there is a maximum potential yield of 300Kg of fibre and 600Kg of shiv so both products require commercial solutions.